Effective Ways of Blogging!
Blogging, blogs, bloggers, etc. are at the forefront for quite a while. In fact these days blogging has become one of the most essential tools behind the success of any online business.
Many people ask me about how to do blogging, while a few out of them even ask me about what is blogging and can we be able to do it as well?
In my opinion blogging is not a big thing, anyone can either create a blog on WordPress or Bloggers platform, or anyone can purchase a domain name and install some blogging software to create a blog.
Though everyone can become a blogger, but the challenge lies in doing an effecting blogging. It's a real challenge for anyone to own a blog which is useful and provide quality to its readers.
Though I never claim that my blogs are really successful, but it is you who can decide about it and I will always welcome your comment about my blog.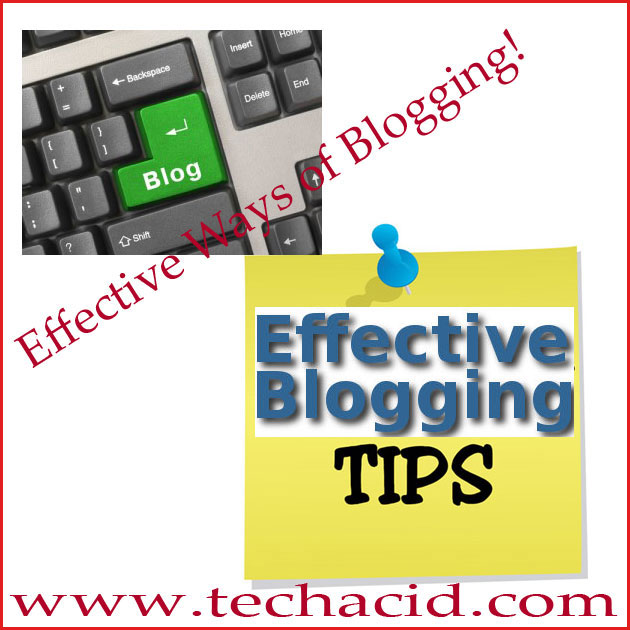 Self Hosted Blog
Going back to the topic about how to do blogging in an effective way, I would suggest everyone that never tries to create free blogs, like people do create blogs with WordPress or Bloggers, rather always go ahead with self hosted blog.
Always purchase a unique domain name for your blog, and also opt for good web hosting services (as you all know that my favorite one is of Hostgator) and then host WordPress blog on it. Thus it will be an unique blog and people will certainly look for it.
If you don't know how to create a self hosted blog or you want to do blogging but don't know how to begin, you can anytime contact me (contact@techacid.com) for providing the professional help.
Be a Master
Always remember to choose a niche in which you are a master and you can provide some unique information to others. As far as the development of an effective blog is concerned, it can be possible only when you can provide unique and informative content to your readers.
It can only be possible if you are the master of a niche, and doing blogs on the same niche. Though I am not a big name as far as blogging is concerned, but I really liked one mail which came to me on my birthday this year, the sender wishes the birthday to me and pronounced me as Blog Guru.
So, as I always state that effective blogs are something which can deliver unique and informative information to its readers. So always try to come up with something new and informative.
Interesting and Creative Posts
To do blogging in an effective manner we always need to provide informative as well as interesting and creative posts to its readers.
Always try to put some images, graphs, etc. in your post, so that the readers of your blog can get attracted towards it. Though I am not a good designer, still I try to post some pictures, or graphics with my each blogs.
As we all know that "Variety is the spice of life." If you cannot create images for your blogs always try to provide varieties to your readers with the help of your write-up only. Believe me it is not that much difficult as well.
Reader Involvement
One of the most important aspects of effective blogging is the involvement of the readers with your blog. The more they will interact with your blog, the more it will be considered as successful.
These days' people are promoting their blog on social networking sites like Facebook, Twitter, etc. just to build community and involve the readers with the same.
My preferable way to interact with readers is to ask them for their comments. As with this blog as well, I would prefer to hear your opinion about the same. You all can share your views with me in the form of comment on the post and I will definitely respond to the same.