Beginners Guide to Do SEO for their New Website!
From last few months I was too busy with lots of activities and this is the reason why I did not get the time to update my Tech Acid blog. As I promised in my last post, which was on how to survive the Google Penguin update, that I will write a post on the basics of search engine optimization, which will help you to do most of the basic stuffs of the website promotion by yourself only. Here is the same for all my readers.
Please understand that this is a post for a beginner, and will guide you to do the basic SEO by yourself only. It does not mean that you will master the SEO with the help of this write-up, but yes this will surely help you to do most of the basics.
Planning and Implementing
So now you already have decided the concept of your website, you already have decided if you want to create a small static website of five to ten pages, or you will have a big e-commerce website. Even you can have a blog setup with WordPress or some other tool as well. Whatever it is, you just need to first understand some of the basics:
Purpose of the Site
The most important factor of any website is the purpose for which it was created. A website can provide some information, news, or some services. It can also provide the information's about some services provided by someone other than you. In all the cases you must need to highlight some parts of your website, which can attract visitors to purchase something, either from you or from someone whom you are referring.
Targeted Keywords
You being the site owner, and all aware about the purpose of the site, can only decide the target audience. Thus, you can also decide through which keywords those targeted audience will look for your website. I mean you can judge yourself that my website should feature in this keywords search.
Good to hear this, but take my suggestion my dear friends, be realistic. While choosing the keywords for your website, you should always be practical and realistic. You should understand the limitation as well.
Let me give you an idea, you wanted to create a website which will sell Apple iPod, and thus you figured out that Apple iPod being the primary keyword for your website. My dear friend, your desire is understandable, but if you think about it, then you will realize that at the beginning it's not at all practical to reach to the first page for that particular keyword in SERP.
So here comes the idea. Let's go a bit deeper and chose a keyword like Apple iPod in California. You can easily see the difference, when you see the competition for both the keywords in Google. By the way do you all know how to check the competition for a particular keyword?
Hey, don't worry; it's not a big task. You can yourself judge the competitors for a particular keyword, open google.com and search for the keywords but with double quotes. Like in the below image you can see that I searched for "Apple iPod" instead of Apple iPod.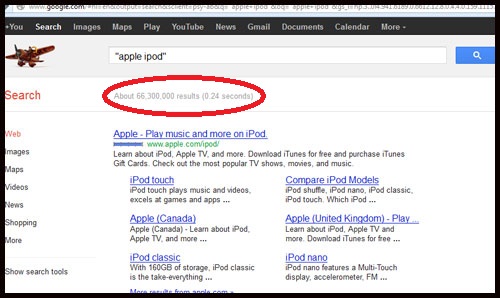 You can see that it is displaying 66,300,000 results, which is actually the number of competitors for the particular keyword Apple iPod. Now check this image as well: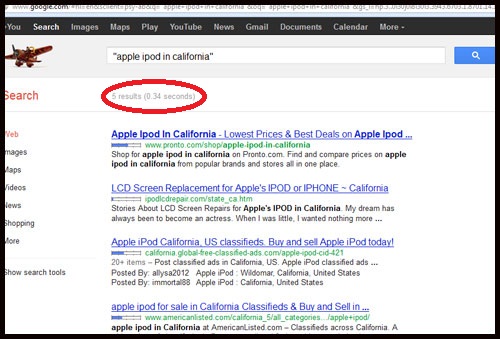 You can clearly see that the number of competitors for the keyword Apple iPod in California is only 5, which is too less than what we saw for Apple iPod.
This way you can clearly choose the best keywords for your website, which will definitely be helpful for you to rank your website.
Once you have a few keywords ready in your hand, you can also take the help of the Google Adowrds external keyword tool, which can be found at https://adwords.google.com/o/KeywordTool which can give you further suggestions depending on your base keywords.
Proper Navigation
Once after the keyword selection has been made, you need to shift your focus towards the design of your website. It should be simple, easy to navigate and provide the information to the visitor for which the visitor visited your website. It should never confuse the visitor.
Title Tag
Once the designs are okay, you should now focus about providing the unique title tag to each of the pages. Always remember every page of your website is meant for some purposes, and the title of the same page should obviously reflect the same. Search engines will consider your title.
There was a time when Meta tags like keywords and description were considered as one of the prime tool to attract search engines, these days they are of not that much important. In fact many search engines doesn't gives any value to Meta keyword tags, and descriptions, but my suggestions will be to put some realistic information in these two fields.
I would always suggest everyone that once you are preparing your website, you must put title, along with Meta keywords and descriptions to all the pages of your website. Please make sure that the keywords field should not have more than 10 keywords or phrases, while description should also not cross more that 220 characters (with spaces).
An example of how to write the title tag is:
<title>Put your title over here (Use maximum 70 Characters with spaces)</title>
Similarly Meta keywords can be written in this way:
<meta name="keywords" content="keyword 1, keyphrases 1, keyword 2……" />
Similarly Meta description can be written in this way:
<meta name="description" content="Put your description here (Use maximum 220 characters with spaces)" />
Dynamic Websites
Putting title tags and Meta tags on a static website is easy, but what about a blog like I News India? For a blog, each individual posts are considered as important, while there must be some SEO required to do with each of them separately. You can use some plug-ins to get the desired results.
Like for my WordPress blogs I use to prefer Greg's High Performance SEO, or All in One SEO Pack plug-in to get the desired results. It helps me to put separate title, keyword and description for each individual posts.
Alt Tags
Alt tags are the short name of the alternative tags which we use to represent the images of the website, and unfortunately many of us forget to optimize the same. So I would suggest you all to put proper consideration about putting different relevant alt tags to each images of your website.
In case of static websites, it's quite easier, but for dynamic website, you must need to put the alt tag for each image which you post in different posts.
Internal Links
Many people claims that search engines now did not give much emphasis on the links, but if you ask me, I would say that links are always important for any websites. Getting external links are not that easy, but you can always give ample value on creating internal links to your pages.
In case of dynamic websites, you must need the tools like related posts etc. which can help you to display similar types of links in each post. This will provide internal links to your old posts.
Using Header Tags
Although using header tags are obsolete now, but still the use of H1, H2, H3, etc. tags on your website is important. Proper care is required while using them. It should not be used in excess. Similarly you can bold some part of your content, but it should not be used improperly.
Content
The most important consideration while doing the optimization of your website is the content part. Many people don't understand the importance of providing unique content on their website. I have seen many website owners who use to copy and paste the content from some different websites. But it is illegal and unethical.
One of my friends asked me a few days back, why are you investing so much time to write an article for your blog? And my response was that, it is one kind of investment. Providing quality content to your visitors is one kind of the USP of your website, and people will always remember your website for your quality content only.
Link Building
Those were all the activities which you can do yourself to do the basic search engine optimization of your website. Other than all these once your site is live, you can participate in social networking websites, like FaceBook, Twitter, Google+, etc. through which you can easily share your pages with other people.
This will not only increase your visibility, plus it will also provide you visitors.
That's all for the moment my dear friends, I will write another post very soon on something related to SEO only. Till than take care.