One of the most asked about question in the field of web is how to increase the popularity of your blog, many of my friends has asked me the same. Here in this post I would like to explain a few things which in my views will increase the popularity of any blog. Although I am not an expert of the field, but these suggestions are based on simply my own working experiences.
Unique Design of Your Blog: The very first tip which I normally give my friends is to develop a unique design or look for your blog. You should have your own logo, theme etc. I know this is not that easier but by spending a few bucks you can always get a unique design for your blog. Either hire a blog designer, or you can purchase some pre-designed themes, or you can even ask me to do so
I know many people think that they can use the free themes, but an unique identity is very much required for your blog. Every penny spent on your blog design is worth, so invest in a custom design and see the increase in the popularity of your blog.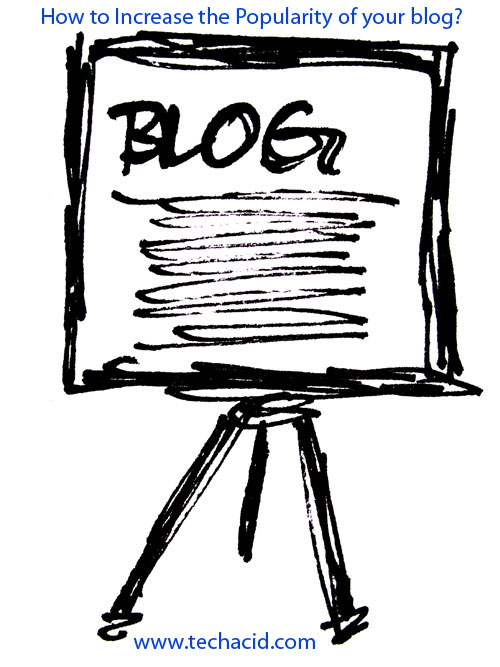 Invest on Hosting: Many people did not give much value for the web hosting, but my top most priorities remain the best possible hosting services for my blog. I always suggest friends to invest a bit more but to get the best possible hosting options for their website. A near about 100% uptime is a must. A bad web hosting service can decrease the popularity of your blog at any moment. So if you are thinking about starting a blog then the first two things which need your attention and cost are web hosting and a unique design for your blog. My recommendation as far as the hosting services are concerned is Hostgator, (Use the coupon code techacidva and get a discount of $9.94 off the package price) I am using them for all of my blogs and websites.
Importance of Niche: Many people ignore the importance of niche while choosing categories for their blog. You should know the importance of niche and thus related content for the popularity of your blog. You are not supposed to write articles on acne in a blog whose niche is technology. Although many people will tell you to choose a particular niche, but I normally prefer to have a specific niche plus some complementary and supplementary categories on your blog. Always think about user, than the search engines while choosing categories.
Content is King: Well the most common tips about the popularity of the blog are the content. As you all know that content is king, so writing targeted and timely content is the secret behind the popularity of your blog. Providing the useful information to the end user is something which can increase the popularity of your blog.
I guess these are four basic tips which can increase the popularity of any blog, other than these you can also focus about Search Engine Optimization (SEO), Social Media Optimization (SMO) etc. but the most basic tips will remain the same.