How to Get Rid of the Security Tool Virus?
Those who are not aware about the security tool virus will surely ask me for what is security tool virus and how do I get rid of it? Security tool virus is a very simple kind of anti-spyware program which is distributed by the websites that simulate virus scans. It is popularly known as security tool and belongs to the same family as system security.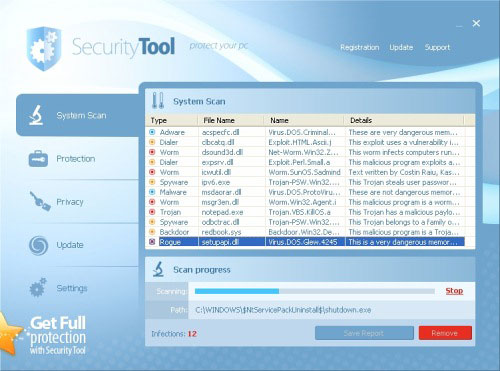 This virus got promoted with the help of Trojans and pop-up ads. This is why we suggest users not to click on any pop-up ads unless you are aware about the content displaying on the ads. Well mostly they will display a pop-up ad which will show you that computer is infected, and you need to click here to install the anti-virus or blah-blah. These types of ad will be like as if they belong to an online anti-malware scanner, while that is not true. These ads belong to fake companies.
In case of a Trojan virus they don't even seek your permission to be installed on your PC. Even sometimes you won't be able to know that some kind of virus has been installed on your personal computer. By default, if it is installed on your PC then it will be configured to start automatically when you login to your PC. The program will scan your PC and display that there are so many problems in your PC and you need to remove these programs, when you try to remove those programs, they will ask you to purchase the program, which is the motive of the virus.
Remember one thing, this virus will provide the false alerts of the files, which are actually the legitimate windows file and removing them by any mean will infect the performance of your own PC. So never try to rectify these infected files.
Well now you must ask me how to get rid of this stupid virus? My answer is quite simple, don't panic, there are ways through which you can easily remove this virus from your PC.
These can be removed by a free malware removal program popularly known as Malwarebytes. You can download Malwarebytes from http://www.malwarebytes.org/ and uninstall security tool. You can also remove this virus by stopping the security tool process randomnumber.exe, this randomnumber can be any number of any digit.
You can also try to remove these directories or files from your system to remove this virus: \Application Data\[random numbers]\ or \Application Data\[random numbers]\[random numbers].exe These files and folders can be found in the C drive of your PC and inside the Documents and Settings of the particular user.
For advanced users, who are well aware about how to play with Registry of your PC: They can remove these registry keys from their PC *HKEY_CURRENT_USER\Software\Security Tool or *HKEY_LOCAL_MACHINE\SOFTWARE\Microsoft\Windows\CurrentVersion\Uninstall\Security Tool. Remember if you don't know anything about Registry then please doesn't even try to use this. It can further damage your PC.
Also you need to remove the virus from the startup, you can remove the randomnumer.exe from the startup entry and it will not be able to start while you login your PC. Remember precaution is better than cure, so always be careful while clicking any types of pop-up ads.