Home
>
Technology
> Which one is Better – Article Marketing or Guest Blogging?
Which one is Better – Article Marketing or Guest Blogging?
There was a time when article marketing was considered as the best mean to promote your online business, but these days guest blogging has made hype in the online world. Many people have the confusion of choosing which one is better among the two.
If you ask me my response would be Guest Blogging. I consider guest blogging as more beneficial over article marketing. After all why do we use guest blogging or article marketing? To get more visitors and link back to the site. These day's article directory sites are almost dead. One of the most popular article directory site ezinearticles is also returning very less number of visitors, even for the articles written by the featured authors are not returning well.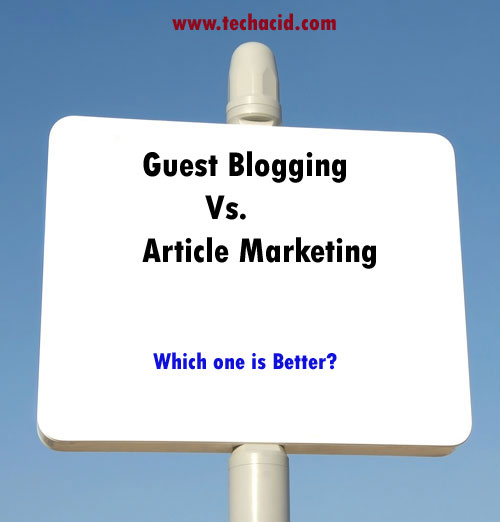 On the other hand if you think about guest blogging, then in my honest opinion it requires really less time compared to article marketing, and it returns quality traffic and link back to your website, which can further help you to get higher page rank value too in future. Here are some of the reasons why a guest post is better:
1. Less Time Consuming:
It's a fact that article marketing requires more time than the guest blogging. Guest blogging only requires a bit long duration when you are using it for the first time for a particular site. Once, you have established yourself as a good writer then it won't require much time.
2. Stay Longer on the Home Page:
Usually guest posts remain for a longer duration on the home page of the host websites. Usually a good strategy is to choose the sites for guest blogging with a bit less popularity; it will give you enough chance to remain on the home page of the site for a longer duration. On the other hand if you choose the less popular article directory site, then it won't return you much compared to the same standard of blogs. Actually sites which posts several articles a day normally don't allow guest blogging, exceptions are also there like Mashable, on which if your post remain on home page for around 2-3 hours also will return you enough compared to other websites or blogs. Normally article directory sites won't allow your article to remain on the home page of the site unless it is featured.
3. Promotion:
Well, this is something which gives you an absolute upper hand for guest blogging compared to the article marketing. All the blogs are having their own reader base, which normally promote the articles of that blog in the social media. Other than that you can also promote your own article, while in case of article directory sites normally people don't like their post on the social media sites, which don't return many visitors.
4. More Challenging:
Well in my views guest blogging is a bit more challenging than the article marketing, reason behind this is that guest blogging has tougher guidelines compared to the article directories. Not everything will be considered as suitable for each blogs, while in case of article marketing it usually happens that the same article is submitted in many article directories, or it has a bit less standard compared to blog posts.
5. Decoration:
Normally the blogs did not receive much volume of a guest post compared to the article directory sites, hence, they spend more time reviewing the entry and thus they decorate it in a much better way compared to the article directories. On the other hand article directories are having a specified format, and they usually don't allow pictures, links in between the content and hence it lost the potential which was required to click.
Thus, if you ask me these were the top five reasons why I prefer guest blogging over the article marketing. There was a time when I use to submit around 4 to 5 articles on a weekly basis in ezinearticles, but now I did not visited the site from last 4-5 months. On the other hand I allowed the guest blogging on my own site too, for which you can read: Be Guest Author with Latest Technology Blog!
Some Related content, you may like them as well:
Tags:
Article Directory
,
Article Directory Sites
,
Article Marketing
,
Back Link
,
Blog
,
Blogging
,
Blogs
,
Challenging
,
Ezinearticles
,
Featured Authors
,
Guest Author
,
Guest Blogging
,
Guest Blogging Vs. Article Marketing
,
Guest Post
,
Higher Page Rank
,
Home Page
,
Link
,
Link Back to Website
,
Links in Between
,
Mashable
,
Online Business
,
Online World
,
Page Rank
,
Pictures
,
Promote Online Business
,
Promotion
,
Quality Traffic
,
Reader Base
,
Social Media
,
Social Media Sites
,
Visitors
,
Websites
About Author
Alok Vats, the owner of Tech Acid, brings over nine years of search engine optimization experience to this blog, and is considered a leading expert in his field of internet marketing. Prior to founding the blogs like Tech Acid, I News India, Make Your Health, etc. Alok was the Online Marketing Manager, and SEO Manager, at different organizations like Koenig Solutions, Visnova Solutions, Abhinav Outsourcings, Accuracast London, etc. The online marketing strategies of Alok Vats have increased the sales for a client by around 300% within a time span of 6 months only. His experience of online marketing field can be helpful to people who are looking for attracting more business and to increase sales through their websites, and to increase business and brand name through their blog.