How to Protect Your Smartphones from Viruses, Malware, or Threats?
The question which normally arises is how to protect your smartphones from viruses, malware, or threats? The response is to use a proper Anti-virus software.
It is normally said that Android itself is a very powerful mobile operating system and it doesn't require any other anti-virus program. But what about other operating systems?
And when the world is threatened by Ransomware recently, how can you trust that your device is completely protected?
Hard to comment on this, but still the best thing which we can do to protect our smartphones from harmful viruses, threats, malware, spyware, scamware, ransomware, etc. is to use an anti-virus program on your smartphone.
Why take the risk of the most preferred things of your life?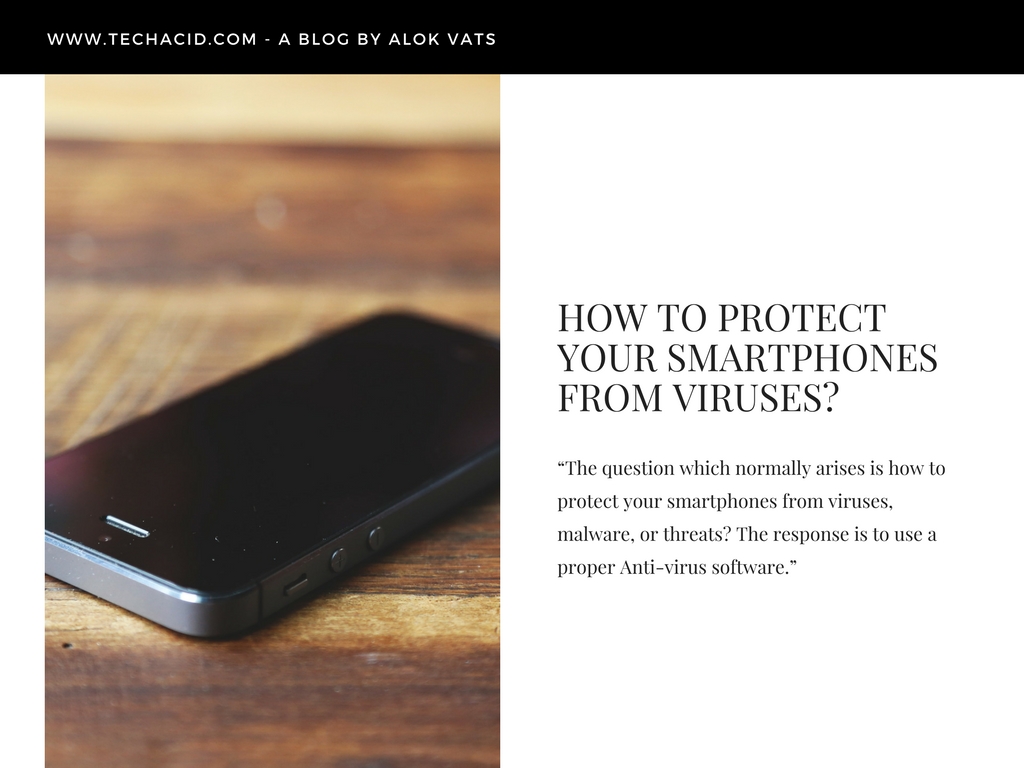 Undoubtedly mobile phone, not any ordinary one, but a smartphone has become an essential part of our life. Although, most of our data remain protected with Google, still when some mishappening happened we start getting panicked.
So, what is the point in not having an anti-virus on your smartphone?
Which AntiVirus should we Look Upon?
Normally when you search Google Play Store you will found somewhere around hundreds of apps, but to select the best among them is a bit difficult.
Let me tell you about my personal choice and it is the AVG Antivirus, the best thing about it is that it comes free and already more than 100,000,000 people are already using it.
Why AVG Antivirus for Android is better in my Opinion?
Here are a few reasons why I do like it:
It is Free
No doubt that we people love free things. So far AVG Antivirus for Android is completely free.
Easy and Clean User Interface
Sometimes it becomes hard to understand what antiviruses are asking us to do. I guess this is the reason why many people prefer not to install an antivirus on their smartphone. With AVG the benefit is that it is having an easy and clean user interface. People can easily understand what need to do and how.
Real-time Scan
You can do the quick scanning of your apps, media files, games, settings, etc. and that too on the real-time basis.
Helps in Improving the Speed of Your Smartphone
The best feature why I always recommend AVG Antivirus to all is that it simply kills processes that slow down the performance of your phone and hence it helps in improving the speed of your smartphone.
I guess this is something which is useful for all the smartphone users.
Optimize Battery Usage
The battery is something which is a major concern for all the smartphone users. AVG Antivirus helps users to monitor and optimize battery usage. Not only batteries, but AVG also helps in monitoring and optimizing storage and data package usage too. It is too critical for those who are using a data plan which is costly.
Helps Locating Your Lost Phone
What normally will be your reaction if by any chance you lost your phone?
Certainly, it will be a panic situation for you. Although Google itself provides a feature through which you can locate your lost phone, with AVG you need not worry about it. It also has the feature of locating your lost phone, obviously with the help of Google Maps, through which you can easily locate your phone.
Data Privacy
One of the biggest issues with a lost phone is that anyone can get the access to your private photos. Sometimes it is a very embarrassing situation.
To protect that AVG is there with the features through which it can hide your private pictures into an encrypted vault. Thus unauthorized users will never be able to get access to the same.
What a relief, is not it?
Other than all the above-mentioned features, it certainly performs so many other things too. If you want to know more about the features, you can simply visit https://play.google.com/store/apps/details?id=com.antivirus and download it for free. It is not only available for Mobile Phones, but it is equally preferable for your Tablets too.
Some Related content, you may like them as well:
About Author
Alok Vats, the owner of Tech Acid, brings over nine years of search engine optimization experience to this blog, and is considered a leading expert in his field of internet marketing. Prior to founding the blogs like Tech Acid, I News India, Make Your Health, etc. Alok was the Online Marketing Manager, and SEO Manager, at different organizations like Koenig Solutions, Visnova Solutions, Abhinav Outsourcings, Accuracast London, etc. The online marketing strategies of Alok Vats have increased the sales for a client by around 300% within a time span of 6 months only. His experience of online marketing field can be helpful to people who are looking for attracting more business and to increase sales through their websites, and to increase business and brand name through their blog.