How to Customize and Update Your Acura Navigation System!
If you drive an Acura vehicle or car then there's every chance that you might have a model that comes with the factory-installed dashboard navigation system.  If buying your Acura from new then this is offered as an optional extra (which you will need to pay for) and comes with a lot of in-built, Acura styled branding.  Some drivers will want to customize their Acura GPS, but doing so is not possible from the control console – instead you need a little bit of technical "know how" in order to do so.  Read on for a short but detailed guide on how you can start to customize your system so that it stands out from the rest plus information on how you can the latest 2012 maps installed.
Installing New Map Updates on the Acura Navi
This is the most important aspect to the Navigation System, but probably the easiest thing you can (although it does come at a price).  New map updates for the Acura GPS are released annually on disc by a company called Navteq.  In order to purchase you will need to visit the official Acura Navigation Website where you will be presented with a number of choices.
You will need to select the Acura model that you drive plus the year of manufacture.  Once you've done that the website will return a list of the map updates available for your model.  For example, drivers in the United States will need to select the North America 2012 DVD.  Purchase prices start at around $150 US Dollars and the new DVD map software typically takes around 5 working days to arrive.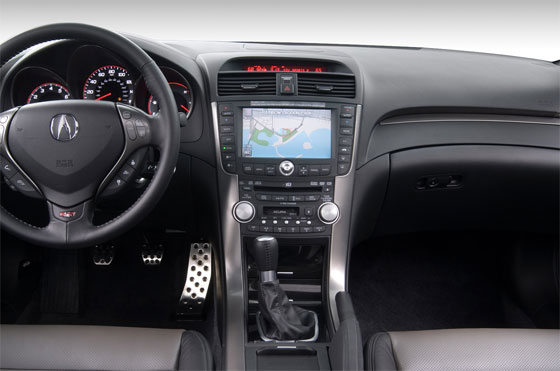 Installing the new disc is easy, here's what you do:
Turn on the car's ignition.
Eject the existing DVD from the entertainment's system's drive.
Insert the new Acura Navigation DVD and press "map updates".
The new software will then install automatically – and can take up to 45 minutes.
Please note that you should not turn the system off during the upgrade process as this can corrupt the install meaning you might need to take the car back to the dealer in order to fix it.
Changing the Loading Screen on the Display
Our second tip lets you change the loading image that first appears when you boot-up the Acura Navigation System.  This one is a little bit more complicated, but is free to do.  Here are the steps:
Turn the navigation system on and press and hold "MAP/GUIDE", then "MENU", then "CANCEL" all at the same time.
Note down the alpha-numeric code that appears on the screen then go to your PC or MAC.
Insert your existing Acura Navigation DVD and take a copy to your desktop – you will then need to open the corresponding .BIN file that matches the code you wrote down using free software called DumpNavi (to find the software look it up on the Google search engine).
The .BIN file will show a .BMP file – this is your loading screen graphic so you can then go and open this with imaging software such as Adobe PhotoShop and create your own version. There are free alternatives to PhotoShop if you don't have this software.
Once you are happy with the new Acura navigation loading screen that you have designed, you will need to re-burn the DVD using the new files you've created, then re-install this into your car's system by inserting it into the disc drive.
Other Customization Options Such as POIs
Currently it is also possible to add new points of interest files (POIs) to the Acura Navigation System.  These include items such as sports stadiums and tourist attractions.  You can download them from Navteq's website as additional extras at a small cost around $20 to $30 US US Dollars depending on the package you want.  There are also some third party POI developers who also create this content.
They come packaged on disc or DVD and mean whilst driving you can search for an item you wish to visit along your route, and then navigate straight to it with turn by turn directions using the GPS.  These are ideal for people planning on a driving vacation or who simply want to get more from their Acura Navigation System.
More Information on Acura Navigation Updates
If you want to get more information on how you can successfully update your Acura's Navigation System with new functionality and content, including new maps for 2012 then please check out these following links – they include informative videos and tutorials that will help any Acura owner who has the GPS device built into their car.
Some Related content, you may like them as well:
Tags:
.BIN File
,
.BMP File
,
Acura Car
,
Acura GPS
,
Acura Navi
,
Acura Navigation DVD
,
Acura Navigation System
,
Acura Navigation Updates
,
Acura Styled Branding
,
Acura Vehicle
,
Adobe PhotoShop
,
Control Console
,
Customize Acura Navigation System
,
Dashboard Navigation System
,
Drivers in United States
,
DumpNavi
,
DVD Map Software
,
Google
,
Google Search Engine
,
GPS
,
GPS Navigation DVD
,
How to Customize Acura Navigation System
,
How to Update Acura Navigation System
,
Imaging Software
,
Mac
,
Navigation System
,
Navteq
,
North America 2012 DVD
,
Official Acura Navigation Website
,
PC
,
Points of Interest Files
,
POIs
,
Screen Graphic
,
Search Engine
,
Sports Stadiums
,
Third Party POI Developers
,
Tourist Attractions
,
Update Acura Navigation System
,
Youtube Channel
About Author
Alok Vats, the owner of Tech Acid, brings over nine years of search engine optimization experience to this blog, and is considered a leading expert in his field of internet marketing. Prior to founding the blogs like Tech Acid, I News India, Make Your Health, etc. Alok was the Online Marketing Manager, and SEO Manager, at different organizations like Koenig Solutions, Visnova Solutions, Abhinav Outsourcings, Accuracast London, etc. The online marketing strategies of Alok Vats have increased the sales for a client by around 300% within a time span of 6 months only. His experience of online marketing field can be helpful to people who are looking for attracting more business and to increase sales through their websites, and to increase business and brand name through their blog.