I was thinking about writing a blog post from last one month, but I was so busy with so many tensions in my professional life that did not get the time to write a single post. Although in between I tried writing on a few topics on blogging tips, but then would not be able to complete them.
Finally after so many days I am a bit relaxed now with the tensions of my life and can concentrate on my blog now. I was thinking to write a post for techacid.com and then suddenly I remembered that a few months back I wrote an interesting post on how to write killer blog post for your blog, and hence this time I decided to use the same topic to provide something which is more important for all the website and blog owners.
So here we go with the topic of some creative ideas to build link for your website. As we all know that links plays an important role in the search engine optimization (SEO) of any website. Being a site owner we always wanted to bring our website at the first position in Google and other search engines SERP (Search Engine Result Pages). Being a webmaster I am sure we all are aware that links plays a huge role in achieving the same.
Let me tell you a very interesting incident which happened with my site a few days back. Don't know how something unusual happened with the site and all the posts went away for some time. It was such a pain that I cannot explain in words, and this is why I always suggest you all to take the proper backup of your website (also read Why is Backing Up your Blog Important?). Thanks to Hostgator, they restored the site with the help of the backups, and I became a bit relaxed.
The problem happened after a few days. Out of sudden I realized that the visitors of the site went down from a level of around thousand plus daily unique visitor to less than hundred only. Out of sudden I realized that my site went out of the Google SERP, and frankly I lost all my hopes. For some of the keywords like benefits of cell phones, my site was coming at the very first place in Google searches, but out of sudden it went out of the results. Frankly I became so frustrated that I can't tell you in words. And do you know the reason, why it happened with my site, it was really surprising for me, as I repaired the database and everything went all right. Thank God.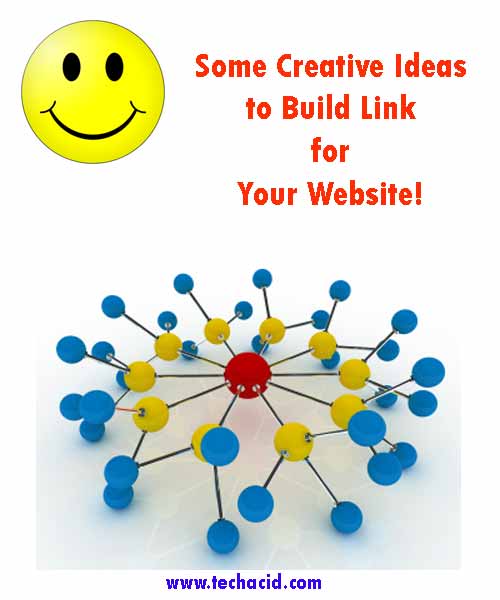 Let's get back to the topic, I am sure you all were thinking that why am I telling this story. The story was to let you know that it was my creative ideas which resulted me so many back links so that my website is coming at the first place for many keywords in Google and other search engines result pages. There was a time when people use to sit for hours and collect the list of potential link partners and then to mail them either one by one, or through bulk mails, and then after so many days be able to create a few links for their website. They use to send thousands of requests for links, but hardly be able to receive a few links. Thus in my opinion it was really a waste of time and effort.
So what is the alternative? Here are a few creative ideas which can provide so many links for your website and that too without asking anyone.
Great Content:
Writing great content is one of the simplest and finest ways to build so many back links to your website. As I already mentioned that always try to give at least one link to your own website in the article as there are many people in this world who will actually copy and publish your post as it is on their own website, that too without giving any credit back to your site. Thus if you are using links to your own site, then they will unknowingly link back to your website and thus you will get an unique back link which will provide you the much needed SEO benefits and sometimes the Page Rank too.
Article Submission:
One of the finest way to build back links to your website is to write great articles for other article directories like ezinearticles, goarticles etc. Publishing your article on such websites will automatically give you hundreds of back links from different websites, as many people use to use the same articles on their own website, but they would need to keep all the links same as it is there in the original article. Thus be careful to place correct links with proper anchor text to your website while submitting your articles in article directories. Also remember to follow their submission guidelines too.
Guest Blogging:
Many people will include this point in the above point only, but in my opinion guest blogging is the most powerful ways to gain link and reputation these days. Guest blogging is one of the finest way to build links to your website and that too for free and with a reputation too. You may also be interested in reading the Ultimate Benefits of the Guest Blogging!
Blog Comments:
Blog comments are also one of the finest ways to build back links to your website. Frankly this is the simplest looking activity, but in my opinion this is the toughest one too. Always remember that there is a very small gap in between the genuine comments and spamming. So always try to write genuine comments, as per the post of the other websites and you will automatically gain the links. Also avoid submitting comments on the sites which follow the rules of Rel="nofollow".
Forums:
Forums are also one of the best ways to build links to your website, that too without asking the same. You can always allow placing a few links as the signature links. But always remember not to spam the forum as it will harm the image of your website. Forums are meant to provide useful and informative information, and you can really become popular if you can provide the same to the other users.
Discussion Groups:
Discussion groups are more or less similar to the forums, if you can be able to provide useful and quality information to other users then you can easily be able to build links to your website.
Social Bookmarking Sites:
Forget about the bigger giants of social bookmarking sites, it is always better to submit your links to many smaller social bookmarking sites as they will return you the much needed SEO benefits along with the reputation too.
Frankly speaking if you really want to get something then you must need to give something too. Thus if you really want to build links to your website you should need to give some unique concept to the visitors, like providing a free e-books, or providing a free games, providing short reviews to something which you are liking along with the links to them, etc. I am sure that these tips will surely help your website to create many-many back links and that too without being asked for the same.