The new 2012 Honda Civic is now on sale in the UK. It's the ninth generation of one of Honda's most popular cars ever produced. Since it was first made available in 1973, more than 650,000 Civics have been sold in the UK.
Although the shape of the Civic hasn't altered dramatically from its predecessor, it's an inch longer, and a little wider. At the same time the wheelbase has been made shorter so there are longer overhangs at either end.
The rear spoiler that hampered visibility somewhat on the eighth generation has been lowered a little and the A-pillars have been thinned down to improve the driver's visibility.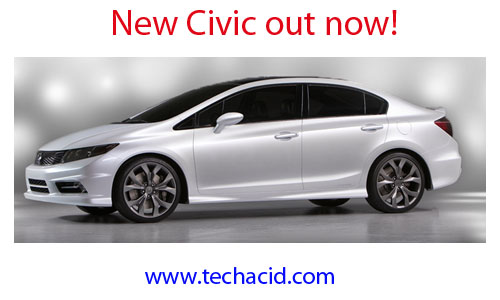 All the new Civic 2012 models have improved fuel economy compared to the last generation, and in the UK the most fuel efficient model is the 2.2 litre diesel engine. It gets 67.3 miles per gallon and has CO2 emissions of 110g/km. It's the most expensive model in the UK, but Honda believes it will be the biggest-seller here.
Improved fuel economy has been achieved partly through the introduction of stop start technology in all manual transmission models. This also helps lower inner city air pollution levels as the engine cuts out automatically while idling in a queue.
Along with better fuel economy the new Civic now offers a smoother drive – thanks to the suspension being oil-filled (rather than rubber-filled), reinforced door sills and thicker front window glass, which helps deaden any external noise. The steering is also much lighter, but it's still accurate when you travel at speed.
There'll be a smaller 1.6 litre diesel engine available at the end of this year, which will have carbon dioxide emissions of less than 100g/km. As yet there's no sign of a Civic 2012 hybrid coming to the UK. For now, those Honda fans wanting to drive a hybrid in Britain have the choice of the Jazz, the Insight and the CR-Z.
Author Bio: Written by an enthusiastic car blogger, David, who recently bought himself his own 2012 Honda Civic. He enjoys writing about anything that has to down with cars – but obviously a big fan of the Civic 2012.