Be Guest Author with Latest Technology Blog!
Do you want to write useful articles on Technology niche and share your skill with the latest technology blog?
Technology is giving information about new tools and techniques daily. Latest Technology Blog is a small effort to provide the latest news and articles relating to new technologies and discoveries. We are getting some inquiries about Guest Author Articles, and hence we are introducing the same with Tech Acid.
We will appreciate your knowledge about technology and will be happy to share the same with our readers with appropriate credit to you.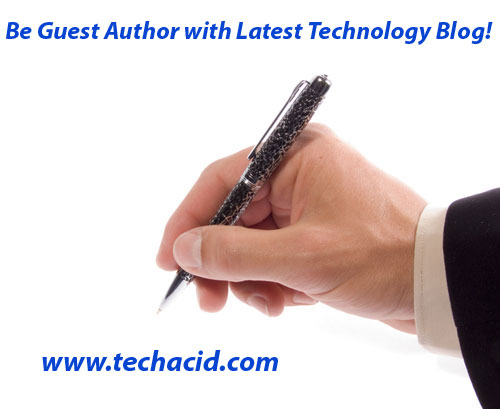 Please remember to submit original content only, we will first look for Copyscape and then only approve the article.
Article must be more than 350 words, although there is no limit of maximum words but we will appreciate the articles of less than 1500 words. What I would recommend is to divide an article into two or three parts if it is crossing 1000 words mark.
We will not allow any link (unless it is linked to Wikipedia) in between the content, rather we will provide you an author bio of maximum 500 characters in which you can add two links (maximum) for your benefit. You can optimize the links with proper anchor text, while please remember that we will check the website so that it should not relate to any unwanted website, like games, warez, make money site, adult site, hate site etc. No affiliate links will be allowed. We have all the rights to decide weather your site is proper or not.
Article must be written in English.
You are not required to provide us the image for the article, but if you do have the image then you can send it to us, but we have all the rights of using it or not.
You can simply mail us at contact@techacid.com, with following details: Your Name, Website Details, Article, Author Bio and anything else which you can consider as required, and we will review and upload the same as early as possible.
We will let you know about the status of your article by e-mail, in either case approved or not approved.
Some Related content, you may like them as well:
About Author
Alok Vats, the owner of Tech Acid, brings over nine years of search engine optimization experience to this blog, and is considered a leading expert in his field of internet marketing. Prior to founding the blogs like Tech Acid, I News India, Make Your Health, etc. Alok was the Online Marketing Manager, and SEO Manager, at different organizations like Koenig Solutions, Visnova Solutions, Abhinav Outsourcings, Accuracast London, etc. The online marketing strategies of Alok Vats have increased the sales for a client by around 300% within a time span of 6 months only. His experience of online marketing field can be helpful to people who are looking for attracting more business and to increase sales through their websites, and to increase business and brand name through their blog.