Use Yahoo's 'Overture' services for more web visitors!
Overture Services, Inc. was earlier known as Goto.com. This Goto.com came into being from Idealab that was set up by Bill Gross in March 1996. It was the first company that provided the Pay-for-Placement (P4P) search service. However, it was not a very profitable venture. In 2003, however, the Overture Services, Inc. was taken over by Yahoo.com, its biggest customer for a huge amount of $1.63 billion.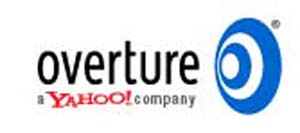 The old name of Overture services Inc. has now been replaced by Yahoo because this top search engine re-brands its products.  The Overture services Inc. has been changed to Yahoo! all across the world. However, it still continues in Japan and Korea where the local businesses still stick to the use of the Overture brand.
Long back, Overture Services Inc. had realized that the use of internet spreading by leaps and bounds worldwide. As a result, it would be the most convenient and chosen medium for online shopping. This would be again the consequence of online advertising that would continually keep increasing in almost all countries. Many businesspersons would own their website and would need a tool or service to enhance their business.
Yahoo! Gradually made lot of inroads to provide multiple services. It allowed any company's ad on its site so that it appears through the use of definite keywords.
Whenever a net surfer inserts certain keywords or a phrase to search for anything, the search engine provides the results in a page. In case you also observe the right side of that page, there would be selected ads. This space has been specifically chosen for more visibility and a special amount is charged for it.
So if a net user keys in words like Mitsubishi Lancer car, and you are one of the dealers of this Japanese luxury car and have paid for an ad on Yahoo, your company will prop on the right side when the specific page opens in Yahoo!.
Therefore, if you have an impressive website with good content and images, your company name will not appear on the first page with those keywords. The main reason is that the search engine crawls to show the relevant pages. And your website link, for example, may open after 100 numbers. As a result the visibility to your website and the traffic to it will be slow and sluggish.
In such a scenario, it is recommended that you can pay only the stipulated amount to Yahoo! And ensure that your ad is displayed on the first page when keywords of Mitsubishi Lancer are inserted in the search box. You get the best opportunity to get more web traffic through your ad in Yahoo!