Google hosted Malware and infected 5 Domains!
You must be surprised to hear this, even I was too, but let me clear one thing that it is not me who is saying this, rather it is Google it self who is saying about Google.com that they have hosted malicious software over the past 90 days and they infected five domains too.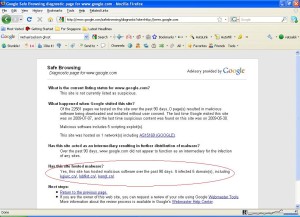 If you see the above image you can get an idea that Google has hosted the malware and infected the five domains like kgiurc.cn/, lobfkrt.cn/, konrjt.cn/.
Are you aware from the Google's Safe Browsing Diagnostic Tool? If not then let me tell you about this, it is a tool which Google launched last year to check whether a website is safe to the people or not? It is a tool which will reply to the "current listing status" of the site, along with "What happened when Google visited this site?" and "Has this site acted as an intermediary resulting in further distribution of malware?" and "Has this site hosted malware?". This last question was very important to know the status of any website.
Let me show you the status of this website in Google's Safe Browsing Diagnostic Tool: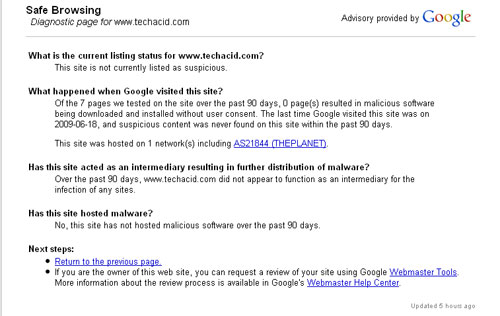 You can see that it is good. You can also check the status of your website by adding the URL of your website at the end of http://www.google.com/safebrowsing/diagnostic?site=. When I was searching for my website http://www.techacid.com then I thought to search about Google it self, and I really become surprised to see that they hosted malware in the recent past and affected five domains too.
What will you say me about this? Do post your comments on this issue; I am eagerly waiting for your response. You can also check the status of Google by visiting this page: http://www.google.com/safebrowsing/diagnostic?site=http://www.google.com
Latest Update on the issue: (Date 16th July) Today I checked the diagnostic for Google again and found that now it is showing that they infected 24 domains. Check the image: