"Technology", the word in non-technical terminology refers to the plasmas, refrigerators, PC's, laptops, DVD players and other electrical and electronic gadgets surrounding us. "Technology thy name is change ", holds true in every context. The launch of a new product or and upgraded version of a coexisting product has become a trend. 2008 too saw the change in technical scenario despite recession looming large on the whole world.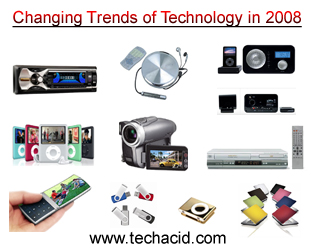 For the IT industry, companies importing products in US were major sufferers with deteriorating dollar value. Whereas companies involved in exports in US and relying less on non-US market managed profit. Moreover, contrary to the earlier belief of maximizing investment in R&D for better returns, 2008 saw the incorporation of customer inputs and demands in R&D for enhanced output.
Collaboration with companies abroad and in their homeland was embarked to market profitability and minimize loss. Merger with smaller firms and setting up of standardized guidelines too were being incorporated for progression of technological setup.
From the product point of view, laptops have captured the market in a big way. The growing demand for portable devices because of mobility has popularized it and desktops have taken a back seat. On similar lines to laptops are ultra mobile PC's, ultra portable notebooks, high-end smart phones with large screens and additional features which have taken a hold on the global market.
Window 7, the upgraded version launched by Microsoft manages to write-off window vistas completely. Now maximum users of window XP have shifted directly to window 7 as window vistas compared to window XP SP2 shows no value upgradation. Nevertheless, window 7 with better control panel features and easy access has made a mark.
Green revolution has modified the industry in a big way. Saving power consumption through data centre consolidation projects rates higher in the priorities of renowned IT companies like IBM and Hewlett-Packard. They are aspiring for easy operations enabling less power consumption thus furthering lesser release of CO2.
Year 2008 has seen rapid expansion of internet services. With broadband services minimizing the internet cost and operational procedure, internet has changed the face of communication infrastructure, business process; data processing etc. Launch of wiMAX has introduced mobile broadband service, taking internet to a new hilt.
Iphones are the latest launch in communication technology with marked presence and promising results. Handy operating system, large display screen, large data storage and sleek body make it an indispensable device. One can now watch a movie, play FM and send mails through these phones. Iphones are loaded with mathematical tools helping out traveling executives perform undisturbed.
"Ipods', apple industry's master launch has changed the face of music industry. With online stores offering music downloads, large memory space accommodating 1000 songs and video storage facility, this music player is very sleek and compact.
2008 has been the year of compact, mobile and easily technological devices. The coming years will see better features but 2008 has made its mark in the technical scenario. The coming year of 2009 will carry on the trend set by the products of 2008 and show promising results.