A sad news for the fans of the Lively, it is going to shut down after 31st of December 2008. Lively was a program developed by Google Lab, through the help of which you can be able to create an avatar in the way which you like and chat with your friends in the rooms which you design.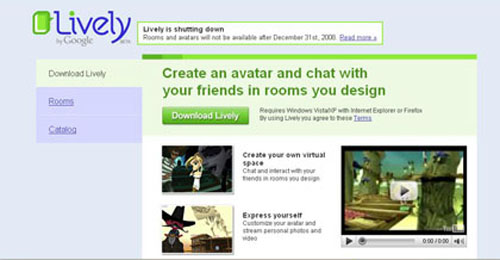 Google team has launched the Lively in July 2008 in Google Lab. The motive behind developing Lively was to provide the users an opportunity to be able to interact with their online friends and express themselves. Google always supports these type of activities as they have clearly mentioned it in their official blog:
Google has always been supportive of this kind of experimentation because we believe it's the best way to create groundbreaking products that make a difference to people's lives.
Ultimately google has accepted that all risks are not going to pay off, and that is why they have decided to close it at the end of December. Read more about all this at http://googleblog.blogspot.com/2008/11/lively-no-more.html