MY five favorite apple products!
The global market is flooded with electronic, electrical and IT devices which prove to be extremely helpful in professional as well as personal life of the user. Apple Inc has proved to hold the customers fascination and is one company, which satisfies the customers in every aspect. I also am a big user of the apple products. My five favorite apple products are as follows: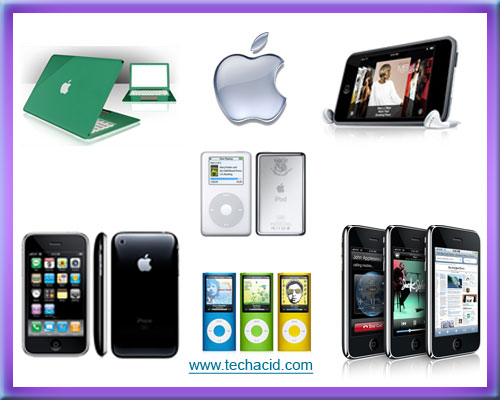 Mcbook: It is a single enclosure device performing multiple functions at the same time popularly known as "unibody". The LCD monitor has been designed using LED back light technology, which warms up faster, and the images appear brighter. This product has proved to be environment friendly by using the LED technology, which is mercury, and arsenic free. This technology exhibits energy conservation. The new McBook trackpad is devoid of all buttons as the trackpad perform all the button functions single-handedly.
Touch screen IPod: This sleek iPod boasts off a sleek body. This iPod is loaded with 100's of games, iTunes and movies and has amazing memory status. There is a volume button on the left side, which enables us to easily monitor the volume. There is an inbuilt speaker, which eliminates the use of headphones. It has a very long lasting battery. This technology has an associated Nike plus iPod sensor, which can be fixed in a Nike shoe keep a track of our work out be it running or cardio workout. It is easier to transfer the data too from the sensor to the main memory.
Apple 3G iPhone: This is the latest in iPhones with better memory and added salient features. 3G iPhones have made communication easier by inbuilt feature of net access where mails can be checked. The phone has better memory space and downloading games is easier. Its GPRS technology helps in map reading and tracing locations. It has language support system, which encourages use of the iPhone in different languages giving it a universal appeal. The iPhone has a scientific calculator too. Apart from that, there is SMS facility, music download facility, camera, easy contact search, more viewing of attachment, calendar etc.
Apple IPod nano: This is an amazing sleek iPod with a sleek body and a wide screen for featuring videos and movies. There is an inbuilt MP3 player and iTunes too can be downloaded and played. There are many games downloads possible with visual graphics. The iPod has excellent memory space of 4GB and 8GB. The phone has a very long lasting battery. It has split screen feature displaying the song play list and what is playing right now facility.
iTunes5: The iTunes were launched in Sept 2005 and have been one of the most widely used products of apples. There is a shuffle facility for randomizing the shuffle d songs and play list can be created for easy access of songs. There is an enhanced feature of podcasts which incorporate 100's of songs and an equal number of Audio tunes. There is a parental control facility, which enables the parents to keep a track of their child's iTunes ventures. There are numerous iTunes available online in the music stores, which can be accessed using credit cards and can be put into a folder.